Communication Center Manager (CCM) Program
In partnership with the International Academies of Emergency Dispatch
The Communication Center Manager program provides a comprehensive foundation of management and leadership practices tailored to today's communication center leaders. Experienced faculty and motivated participants come together for two dynamic weeks of education and training, with additional online coursework. Participants come away with skills they can put to use immediately in the communication center. They also create a lifelong network of peers from organizations representing a diverse range of communication center models, including both small and large, urban and rural, and law enforcement, fire and EMS.
---
The National Emergency Number Association recognizes the Communication Center Manager Program for credit toward the recertification of the Emergency Number Professional certificate.
The Curriculum 
The Communication Center Manager program immerses participants in an engaging learning environment that covers management and leadership theory and the critical topics communication center managers need to know. Through case studies, participants not only learn about these issues but also get the chance to put their new skills to use.
The course begins with students completing coursework and participating in discussions online in preparation for the in-person sessions. The attendees come together for six days of in-person, experiential learning, followed by several weeks of continued online discussions and group project work before the program culminates in another six-day in-person session.
Some of the areas covered in the course include:
Human resources
Finance and budgeting
Customer and media relations
Managing technology
Operations
And much, much more.
Tuition Support 
Participants from the State of Massachusetts may be eligible for grant funding to the CCM program. Check with your state's 911 program about funding availability in your state.
The Faculty 
Participants in the Communication Center Manager program have the opportunity to learn from experts in the art and science of management and leadership, including guests from the International Academies of Dispatch. The core faculty for the course includes Jay Fitch, PhD, Anthony Minge, EdD, Hannah Fitch, M. Div. and Jennifer Kirkland, ENP, CPE, RPL.
Questions? Contact Sharon Conroy (scon[email protected]) with Fitch & Associates at 816-431-2600.
---
CCM FALL 2023
Online begins: Aug. 28
Onsite: Oct. 8-13 & Dec. 3-8
Oklahoma City, OK
---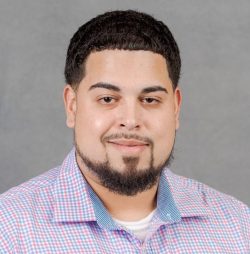 William Santiago, JR. QA/QI Analyst
Springfield Emergency Communications, Springfield, MA
CCM Fall 2022 Graduate
"[CCM] is the most important class I have taken in my 911 career to date! From Human Resources to budgeting, I.T. to staffing, training and retention to dealing with challenging disciplinary issues in today's workforce, this class is your one-stop shop to learn everything there is to know to effectively manage a communications center"
Angela Modrell, Dispatch Supervisor
Fairbanks Emergency Communication Center, Fairbanks, AK
CCM Fall 2021 Graduate
"CCM was the experience I was not expecting. We disconnected from our everyday hustle and stress as telecommunicators, supervisors, and managers and concentrated on ourselves and our journey as leaders. CCM staff brought in subject matter experts for most every aspect of communication center management and each seminar was up to date and informative. They taught us to recognize our leadership style and how it affects others; then how to adjust our leadership style into appreciative supervision. The CCM experience is well worth your time."
Douglas M. Bentley Jr, MS, CPE, ENP, Major/Deputy Director E-911
DeKalb County GA E-911 Communications, Tucker GA
CCM Fall 2019 Graduate
"The Communication Center Manager Course (CCM) is simply the best personal and professional experience of my life. From day one CCM challenges you to look deeply into yourself and confront all that you are. CCM arms you with the skills and network of industry leading professionals to learn about yourself in a way that touches your heart. CCM pushes you in ways to be a better human being, never be a bystander and to live fully by learning as much as you can every day."
CCM participants and faculty discuss valuable lessons learned through the Communication Center Manager Program.
Ambulance Service Manager & Communication Center Manager Programs
---
CCM LEADERSHIP AWARD RECIPIENTS
Fall 2022: William Santiago
Fall 2021: Angela Modrell
Fall 2019: Douglas Bentley, Jr
Fall 2018: Stephen Johnson
Spring 2018: Joe Coons
Fall 2017: Thomas Darst
Spring 2017: Amanda Tudor
2016: Chris Campbell
2015: Teri Best
2014: Christine Bannister
2013: Tracy Ertle
2012: Gary Bell
2011: Monica Million
2010: Trish Maher
2009: Sherry Stigler
2008: Jaci Fox
2007/2008: David Connolly
2006/2007: Ronda Grant
2005/2006: Margot Bergstrom
2004/2005: Michael Nelson
2003/2004: Tom Somers
---
REGISTER BY JULY 17, 2023 & SAVE $200!
CCM Course – Early: $2,560* | Regular: $2,760
*Must be paid in full by July 17, 2023.
Register
---
Location: Embassy Suites Oklahoma City Northwest, 3233 NW Expressway, Oklahoma City, Oklahoma 73112 | 405-842-6633
Program Information
Each onsite week begins Sunday at 8:00 am and runs through Friday 3:00 pm (you will need to arrive on Saturday). Each day begins promptly at 8:00 am. Both online and onsite sessions required to successfully complete the course. Laptop with Wi-Fi, PDF reader, and Office Productivity Suite is highly suggested but not required. View a draft schedule or syllabus.
Registration Information
Tuition includes the live and online faculty sessions, materials, a work style profile and 360 survey. Laptop with Wi-Fi, PDF Reader, and Office Productivity Suite is highly recommended (not required) for the course. Each onsite class begins at 8:00 am on Sunday and concludes at 3:00 pm on Friday.
Hotel Information
The CCM Program will be held at the Embassy Suites Oklahoma City Northwest, 3233 NW Expressway, Oklahoma City, OK 73112. The discounted room rate is $129 per night. Reservations can be made online for WEEK 1 and WEEK 2. Room blocks expire September 16 for week 1 and November 11 for week 2. Discounted rate cannot be guaranteed after this date. You can also make your reservation by calling the hotel directly at 405-842-6633.
Airport Transportation
The Embassy Suites is just 15 minutes from the Will Rogers World Airport (OKC). Transportation options can be found on the hotel's website.
Class is scheduled to end at 3:00 p.m. on each Friday. In order to allow for travel time and recommended early airport arrival, do not schedule return flights earlier than 5:00 pm (5:30 pm if you will have a rental car). Participants will not be excused early or allowed to miss portions of the session due to preventable flight schedule conflicts.
Cancellation Policy
All cancelations will be subject to an administrative fee based on date of cancelation. Refunds will be processed less a 25% fee if cancelled before June 26; less a 50% fee between June 27 and August 14. No refunds will be processed after August 14, 2023. Cancelations must be in writing to Fitch & Associates e-mail ([email protected]). Telephone cancellations will not be accepted. Attendee substitutions from the same agency will be accepted if requested via e-mail.