On-Site Management Services
Hospitals and local governments providing ground- and air-based medical transport services and multiple professional associations turn to our team, under our MedServ brand, for experienced and effective leaders and on-site management services.
---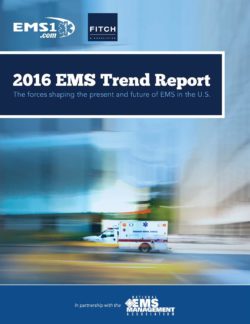 On-Site Management Feature Resource As the EMS adage goes, "If you've seen one EMS system, you've seen one EMS system." While that statement reflects the diversity of EMS systems across the United States, it also creates the false sense that every EMS system is entirely different and that EMS leaders can't learn from each other. Clearly that is not the case. As we see in the premiere edition of the EMS Trend Report, EMS systems across the country share many traits. On the other hand, significant differences do exist in everything from clinical care to salaries to operational benchmarks to hiring requirements.
View Full Article
---
On-Site Management Services
Leading a complex, highly specialized enterprise, such as an emergency services organization, fire department or medical transportation program, takes more than experience. It takes vision – and the ability to articulate that vision and inspire people to implement it. It takes faith in best practices and proven performers, together with the insight to recognize them. And it takes the strength to institute positive changes.
Fitch & Associates provides management teams on an interim or long-term basis for a range of programs.  We currently manage a suburban county EMS system, three major hospital based EMS systems, a regional air medical program and three EMS related national associations. Many of these relationships span more than 10 years.
Whether you're looking for a CEO, program director, communications center leader or fire chief, we have experts who can provide a full range of on-site management services customized to your organization's needs.
Fitch & Associates has:
Managed EMS programs for acute care and specialty hospitals, municipal and government agencies, and private medical transport organizations
Provided leadership to EMS services during times of transition within the organization
Transformed non-performing medical transportation operations into high-quality, high-performing systems
Enhanced caregiver engagement
Improved operational efficiencies and financial performance
Identified the aviation expertise that's needed on-site for both the director of operations and director of maintenance positions that the FAA requires to transition programs to full independent Part 135 status.
Managed the recruitment and selection of leaders for fire departments, EMS services and air medical organizations, ensuring the best possible match for both the organization and the candidate
Fitch & Associates provides more than management. We provide leadership backed by a team of experts ready to help our clients perform at the highest level.
We offer a turnkey solution to transform your ground or air service into a high-performing agency. Call Fitch & Associates at 816-431-2600.
Resources
What On-Site Management Experts Are Saying